Newborn Portrait and Lifestyle Sessions
Newborn photography holds a special place in my heart. I adore capturing the sleepy faces, cute poses, or big yawns on camera for you to cherish forever. Their tiny hands and feet grow so fast but the photographs we take will always remind you of that first few weeks and months with your little bundle of joy.
The best time to take portrait photos of baby is between 5-14 days old. This is because a baby that young is (usually) still very sleepy and relaxed. I recommend booking your Newborn Portrait photo session as soon as possible to give you the most flexibility and treasure these first moments.
Newborn portrait sessions can take up to 2 hours. I always plan for the unexpected to happen (baby refusing to sleep or settle down, full nappies and hungry tummies) so please allow for more time on the day of your photo shoot.

To make it as smooth and easy as possible, please try to feed your baby 2 hours before the session. Once you arrive at my home studio you will have enough time to feed your baby again before the session begins - I have set up a separate room for you to relax, feed and change bubs if needed.
Please note that your baby should be kept awake for at least 1.5 hours prior to the session - so I will be able to easily pose your baby while he/she is falling asleep . A settled, sleeping newborn is always easiest to photograph, this also gives mum/dad the opportunity to relax as well.

Your baby's safety is my number one priority; therefore, my studio is always set to a warm temperature (ca 24 degrees) and I will never pose your baby in any uncomfortable or dangerous position. For me, a natural posing of your baby is best. I provide backdrops, newborn baskets or bowls, a newborn beanbag, clothes, layers and swaddles and other accessories you can choose from. Please talk to me about different colour schemes.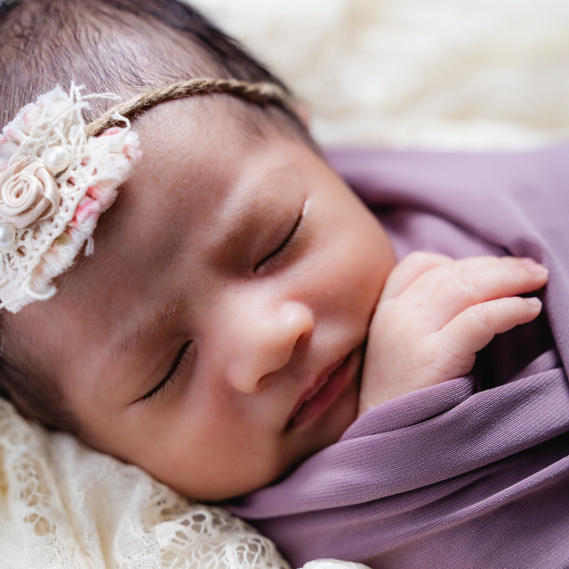 $399
Included in this package:
Photo session at our studio in Long Bay or in your home within Auckland Region
Newborn portrait session and some bespoke lifestyle photos (up to 1.5 hours)
Backdrops, props and layers (different colour schemes available), mobile studio set up
Online gallery to select and share photos
10 professionally edited photos for download
Additional options:
additional digital photos at only $20 each or additional $149 for all your favorites (up to 25 photos)
wide range of high-quality print products to purchase for your home or as gifts
Gallery
For Lifestyle photo sessions age really is just a number and it does not matter if your baby is 5 days or 2 months old. The purpose is to capture the "art of the everyday" in your life: the family bonds, the smiles and laughs, the fun, the drama ;)
For most of the session you are holding and cuddling your baby in your arms or simply play with him or her to get a smile out of them.
My photographs should tell your & your baby's story - this is usually done at a location of your choosing (favourite beach or park) or comfortably at your home.
$299
Included in this package:
Photo session at a location of your choosing within Auckland Region
45-60 min lifestyle session for max 2 adult + one baby
Online gallery to select and share photos
10 professionally edited photos for download
Additional options:
additional digital photos at only $20 each or additional $149 for all your favorites (up to 25 photos)
wide range of high-quality print products to purchase for your home or as gifts
Gallery